By Maureen Lonergan, Vice President of Training and Certification, Amazon Web Services
Digital transformation has become a priority for many organizations, and in conjunction, cloud adoption is on the rise. In fact, 91% of organizations have adopted or plan to adopt a digital-first business strategy, yet many report that their IT teams lack the necessary cloud skills to execute their plans. How are these two things reconciled? Through a focus on organization-wide cultural transformations. In today's digital era, it's no longer enough to just focus on your IT workforce.
In my work leading Amazon Web Services (AWS) Training and Certification, I've found that when customers give their whole organization an understanding of the cloud, and the vision behind transformation strategies, everyone understands how the cloud can make an impact on their project, department, or function. Respondents of an Aberdeen study agreed: 95% of respondents reported it's important or extremely important that the workforce is skilled in cloud capabilities for successful digital transformations.
Start with cloud fluency
Successful digital transformations start with cloud skills development for all staff—including IT, sales, marketing, finance, human resources, senior leadership, and more—to create cloud fluency. Cloud fluency empowers your staff with foundational cloud knowledge to advanced technical expertise, creating a culture in which there's a shared language of the cloud and understanding of its capabilities. Cloud-thinking embraces agility and the ability to fail fast. It leads to rapid proofs of concept that quickly show whether ideas and innovations will work, without spending big time and big money. Cloud fluency helps fast-track innovations from conception to viability across the business. In other words, when the organization is cloud fluent, it can fully maximize its cloud investment, leading to radical transformation.
Developing cloud fluency sounds like a worthy pursuit, but how will skills training impact your business and its culture, and drive positive outcomes in real, tangible ways? Let's explore how investing in cloud skills to fully enable your people will positively influence your bottom line.
Cloud fluency improves business performance
Organizations that built broad cloud fluency have shown immediate impact on the efficiency of cloud use, with cost savings across a range of operations and business functions. Cloud expertise empowers teams and individuals with the tools and knowledge they need to examine opportunities, streamline operations, move workloads to the cloud, increase agility, and reduce overall costs. It also helps reduce development, test, and storage costs, which typically fall on the shoulders of developers, allowing them to focus on higher-impact, customer-focused priorities.
Choice Hotels, a global lodging franchisor with more than 7,000 hotels in more than 40 countries and territories, relies on innovative technology to provide guests with positive experiences and help hotel owners successfully run their businesses. In 2018, Choice Hotels began migrating from colocation data centers to AWS. Choice realized it could better optimize its investment if more employees were familiar with using AWS.
The cloud intimidated many staff members because they would have to learn new skills after 10 to 20 years of traditional IT. "Choice Hotels wants employees to have a career path and do new, exciting things," says Jill Alexander, senior director of cloud platform engineering at Choice Hotels. "Training helps us level the playing field by meeting them at their level and developing their cloud skills."
By training 400 employees—including engineers, program managers, and business systems analysts—in architecting, developing, big data, machine learning, security, and DevOps, Choice increased its speed to market and ability to innovate. Further, the teams are now more aware of the impact of their actions, leading to better optimization of the infrastructure and higher performance at a lower cost. As a result, Choice has seen a significant increase in both shopping and booking traffic, while keeping its AWS costs stable.
"People are now more comfortable in the cloud," Alexander says. "We didn't segment this training. An infrastructure person could take an advanced architecting course. We saw a dramatic shift in how staff embraced the migration. They were more willing to engage and more comfortable sharing ideas to make things go quickly. Getting people on board and moving faster will pay dividends."
Cloud fluency increases workforce retention
Beyond time and cost savings, cloud investments pay dividends in the way teams view where they work and how they work. Empowering employees with the tools to build and grow professional skills can contribute to loyalty, satisfaction, and retention. Aberdeen found that well-trained organizations had a 17.4% higher employee retention rate and a 19.3% higher employee tenure compared to average organizations.
When National Australia Bank (NAB) embarked on their AWS Cloud migration journey, they invested in a comprehensive cloud training program to help meet their technology goals. Three years later, they've trained more than 7,000 staff and supported more than 1,300 employees in becoming AWS Certified. That investment didn't go unnoticed. NAB has been recognized as one of the top five most desirable places to work in Australia.
Patrick Wright, chief technology and operating officer for NAB, knows the importance of investing in your people. "The battle for technology talent is fierce, and we're taking action. We want to create opportunities for our people who want to learn new skills and grow their career in technology—and we want the top talent in the industry to come and join us."
Empowered and well-trained employees become loyal members of your workforce. NAB's investments reduced its attrition rate from 20% to 8% among those who achieved an AWS Certification. Research by Enterprise Strategy Group further validates this: 96% of business decision-makers agree that their decision to support AWS Certifications improved employee retention among cloud-focused staff.
"By supporting AWS Certification, we've enabled our employees to be more engaged, more productive, and more innovative. Our systems have better availability, which ultimately benefits our customers," says Matt Cobby, cloud guild leader at NAB.
Cloud fluency speeds time to innovation
Finally, when an organization creates a cloud-fluent culture, cloud innovation can come from anywhere—not just from tech teams and cloud architects, but also sales, marketing, finance, and executive teams. When people in different roles can communicate effectively about the capabilities of the cloud, it allows them to work more quickly together to create customer and business innovations.
Businesses achieve better outcomes when they invest in cloud skills. Aberdeen's research revealed a 23.9% decrease in time for new hires to work at full capacity, 18.5% higher revenue per full-time employee, and 21.7% improvements to on-time cloud project completion rates. By investing in cloud skills across the organization, employees are more capable of accelerating innovation to address customer needs and in turn, prove the business value of the cloud.
Verisk, a global data analytics company with 9,000 employees working with companies in diverse industries from insurance to energy markets, chose AWS because of the services available and the quality of our innovation. To help the business execute its migration and accelerate innovations that address a variety of risks from climate change to cyber security, Verisk invested in building cloud skills across both business and technical professionals.
"We want our entire team to be cloud-builders. An important part of Verisk's commitment to moving to the cloud is making sure that every one of our employees has an opportunity to be part of the journey," says Robert Dorn, director of strategic technology at Verisk.
Building on the teams' knowledge about the cloud through several initiatives, including Verisk's Cloud Academy, and having people across the enterprise talk to each other more fluently about the cloud is an important step for the company.
"By educating team members of all backgrounds about the cloud, we have empowered colleagues without a technical background to come up with creative applications and innovations—something that would have been highly unlikely before we got started. A salesperson's cloud knowledge might allow them to cast a lens on the experience of our sales tools, for example, and come up with an innovation or idea that boosts productivity. We're seeing the impact across the business," Dorn adds.
Become a cloud-fluent organization
The benefits of developing cloud fluency extend well beyond the confines of the IT department. When all your employees are empowered with the knowledge and confidence to innovate with the cloud, your organization can not only solve its cloud skills deficits but also unlock new transformative business and cultural opportunities. Put another way: Your people can embody the speed, agility, resiliency, and scale for which the cloud is known, giving your organization an unparalleled advantage.
Learn how AWS Training and Certification can help you get started on your journey to organization-wide cloud fluency.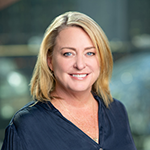 Maureen Lonergan is Vice President of Training and Certification for Amazon Web Services (AWS), where she leads a global team of builders committed to training the next generation of cloud talent. Maureen helps AWS customers, partners, and employees gain the skills and knowledge to unlock the power of the AWS Cloud in the age of digital transformation. More information.